The Guild
My life is full today, with love, passion, and creativity. It's so full that there are times when I feel like there are not enough hours in the day to achieve everything. I have so many pieces begging to come out. In order to honor the creative energy flowing inside of me, I decided to leave my family and home for an experience that will stay with me forever.
I first heard about the Grunewald Guild during an enthusiastic phone call with an insanely talented friend of mine. He was ecstatic about the experience he had along the Wenatchee River in Plain, Washington. He and his mother, who has been going to the Guild for many years, attended a song-writing workshop at this remote artist's community.
When I hung up the phone I instantly went to their website to learn more about what they were and how they were founded. With years of history, the Guild is a place where community, art, and faith come together. I was intrigued. The idea of being out of my comfort zone, a change in atmosphere, and having the time to focus solely on my art was just the tip of the iceberg. Internally, I knew this experience would have a lot more to offer me, and although I was scared, I applied for an artist in residence during the winter, and was accepted. Doors opened quickly and I knew that I was meant to go.
There is something so magical about this place. I could feel it the second I stepped foot on the property. A creative essence was lingering in the air.
When I arrived it was nine degrees, and the snow was like a white blanket cloaking the forest. There was peacefulness as the snow fell from the sky. I felt like I was in a snow globe, surrounded with snowflakes and icicles hanging from the rooftops. It took a little while for me to adjust to the different climate, but I found myself enjoying hot tea by the fireplace, and making snow angels in my tutu. I lived upstairs in a 100 year old library filled with endless character and hundreds of books. I slept peacefully with the sound of the river outside my window. Deer, and squirrels roamed around the campus, leaving me breathless.
Winter soon felt like a wonderland. I had my first snow shoveling experience, and I laughed thinking, "I wish my dad could see me right now." I even got an opportunity to go snowboarding. I quickly made friends with the staff members who were all incredibly talented artists themselves. They were all so welcoming, and made me feel right at home. The more time we spent together the more I fell in love with this place and the people.
Scotty, the house chef made some of the most delicious meals I have ever had, and even taught me how to cook a few things that I had been scared to try on my own. Sarah Jane soon became my new hero, teaching me how to build my own crate to ship all my work home. Scotty and Sarah Jane are both incredibly talented potters. They welcomed me into the pot shop where I even got to create some of my own pottery while I was there, and my own luminary.
Anne is one of the sweetest people I have ever met, and we had some beautiful conversations that inspired each of us. Louis and Dan are some of the most kind-hearted people on this earth. They made me feel like this place was my home away from home. Bethany and I became really close during my stay. Our friendship quickly grew as we had late night talks about the pleasures and struggles of being artists, and following our hearts. She encouraged me in ways I'll forever be grateful for. The two of us went on a road trip a few days before I headed back to Hawaii, exploring Portland and Seattle, two places I have always longed to go. I got to experience some rad art such as the troll under the bridge, the gum wall at Pike's Market, and some street art that had my jaw on the floor. Those memories will be with me always.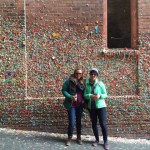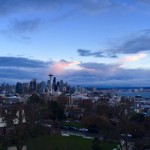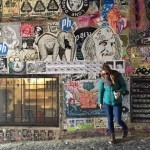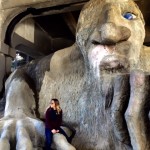 The Guild provided me with a safe, comforting atmosphere where I could connect with my inner artist. I was able to escape from all the distractions of life and immerse myself into the essence of my being. I was able to open up creatively in ways I haven't before. I've heard artists say that when they evolve, so does their work. That's exactly what happened while I was there.
I had pre-planned the pieces I was going to create during my stay. I thought about what materials I would need while I was there, and shipped them up before I arrived. I set a goal for myself, a piece a week. I was going for two months, and although I thought eight pieces was pushing it, I ended up creating ten. I started off with a few animal pieces that I had been dying to do, but half way through my fifth piece the energy shifted. I found myself feeling stagnant. I started talking to my new friends about how I was lacking motivation and desire to continue with the pieces I had planned to do. For some reason I had a craving to make some weird art. There was another side of me, creatively, that wanted to come out. It wanted to explore. I was battling with the logical part of my brain that wants to finish this animal series I've been working on, and my imagination that wants to play. I've discovered that the mystery of creation is the thrill for me. It is the source of excitement and inspiration.
After some encouragement from the artists that surrounded me, I decided to run with it. I allowed the energy to go where it wanted to flow. My studio was right next to the glass studio where I found myself wandering. I discovered all this broken glass used for mosaics during classes. I asked, and they gave me the freedom to use as much as I wanted. Before I realized it I was somehow putting the pieces back together. This was symbolic to me. There are moments when I've felt like broken shards of glass, unsure of what to do with the pieces. I don't think I am alone in experiencing this feeling. The hardest part is putting ourselves back together. As I stared at the pile of broken glass, I took on the challenge. I saw beauty in how the different colors went together like a new reformed puzzle. Certain shapes and colors were attracted to one another, and I felt like they belonged. I was reinventing myself. Creating something new out of the broken pieces. This inspired two pieces I made while I was there.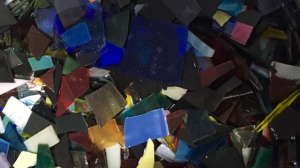 The energy shifted again. While on an adventure to see Wenatchee Lake, I found a single set of leaves clinging to a tree. They looked like fairy wings. I found myself lagging behind my friends, starring at these magical wings in my hands. I started to see the forest in a different light, through my imagination. Mushrooms and stones I found along the edge of the lake now looked like fairy steps. Magical creatures filled my mind, and I ended up giving them life. These wings inspired a short fairy series that ended my stay. Something happened when I gave my imagination the freedom to play. I stayed up till 4am that morning because I was so excited about what was coming out. When I finished that first fairy piece, I wanted to make more.
A few people came to mind during these creations. I heard their words, "I'm curious how the forest and change in scenery are going to affect your work." I didn't think it would, but it did in an unexpected way. The forests that surrounded my world at the Guild were mysterious and mystical. I am a sucker for imaginative creatures, and my inner child was beyond excited to play along.
I can't wait to show people what I made while I was up there. I will be having an art show as soon as time allows, and more blogs will be following each individual piece. Please stay tuned, because more will be revealed.