"Ora" the Octopus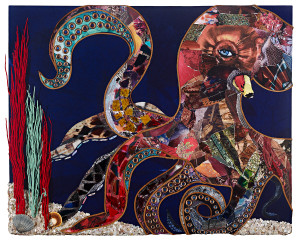 I want to share with you some of the inspiration and symbolism behind my pieces. Before I create a piece, a "vision" comes to me, usually in moments where it's least expected. I see a glimpse into the future of what's to come, that only time will carry out. This vision is unfinished. I only see bits and pieces. The rest evolves as I work on it, which I am grateful for because the mystery is exciting.
Every artist needs inspiration. Some of that inspiration comes from nature, imagination, or experiences we have. Often, synchronicity will happen, as if nature knows that I need more in order to fulfill this vision it has gifted me. I had a vision of an Octopus, and an impression was left on my heart. Little did I know, I was about to meet her, the muse.
Animals are spiritual beings. They have qualities; character; value. The Hawaiians believe all living beings have "mana," an energy source that radiates from all living creatures. They also believe in Na Aumakua, a family god, often a passed ancestor come to give spiritual guidance or warning. They believe the dead have a continued existence and the ability to influence the living. These Amakua can manifest in nature, such as owls, turtles, sharks, or … an octopus.
Ora the Octopus came to me, making an impact on my life. Born and raised on the Big Island, I had never seen an Octopus up close and alive until a year ago. I will always remember the day we met. I was free diving with a friend off the reef outside of Pine Trees. I watched from above as my friend dove down to the depths of the ocean and wrestled with something in the coral heads. Minutes later he was surfacing, something in his hand. When he reached the surface, he yelled to me that it was a He'e. It inked, spreading a black cloud throughout the ocean. A defense mechanism to get away from prey.
I felt a lot of fear as I got closer to this magnificent creature. I was scared of her. He went to hand her to me, and I literally screamed at the top of my lungs. He laughed at me and told me to hold her so he could grab his go pro. I hesitated, but I heard a familiar saying in my heart, "Feel the fear and do it anyway." I reached out and touched her. She was slimy, and soft, like velvet. She changed colors right before my eyes, like a chameleon, but more … magical. It was mind boggling. The way the colors spread across her skin was hypnotizing. I suddenly had an urge to hold this magnificent creature. He handed her to me, and her snake like arms crawled up and around me, feeling, searching, processing. She stared into my eyes, and I felt her presence. Her power. Her Mana. It reached every bit of my soul and I was connected to her.
Octopus's symbolize complexity, diversity, mystery, vision, illusion, purity, flexibility, emotion, intelligence, and creativity. She embodied every aspect of these traits, ones I admire and would love to obtain. This moment where I stared at her, and her at me, left me with a feeling that will remain with me forever. It lives through this piece. She left me with a reminder, fear is an illusion. The most magical moments, and evolution come from facing our fears.
I created this piece while I was at the Grunewald Guild, an artist in residency program in Washington State. This piece is made from about 75% recycled materials. I use all recycled magazines my work. They are donated from businesses or friends that have no use for them anymore. This coral was made from parts of a palm tree I found on a walk, treated and painted. This glass was found in a bucket in the mosaic studio, all the pieces were too small to use in any future mosaics. The background was a reused tissue paper, that would have ended up in the trash. As you can see, I love to turn something old, something overlooked, into something that will inspire and awaken the hearts of others.