That Spark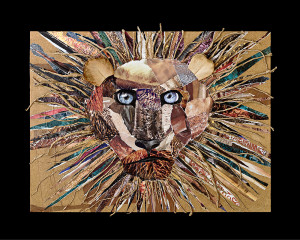 I looked at my friend's white walls. Frustrated. They were like white canvases just begging to be devoured with color. I would've loved to run to the store and grab gallons of paint; however, they were not mine to saturate. Nothing gets to me more than the absence of color. Ironically my last name is White.
"You're walls bug me," I said. "You don't even have any art on them."
"… paint me something," he said.
I felt a bolt of excitement. "Ok…What's your favorite animal?"
He thought for a second, as a smirk crawled up his face, "A lion."
"So is mine," I thought. A surge of inspiration rushed through me. I didn't know it then, but my world was about to get a lot more colorful.
I think creative outlets are gifts from the universe. They're truly expressions of ourselves, and what we love. Most of the time I'm uncertain what's going to come out, until I am staring at it. The mystery is beyond exciting.
While I worked on "Leo" something sparked inside of me. This spark set fire to the most amazing brushfire of my life. Among the flames, I was inspired to do an animal series. I love animals. I am intrigued by these spiritual creatures just roaming this earth.
I've always had a connection with kids too. They have this unattainable ability to live so freely in the moment…nothing's more valuable than that. It fascinates me. I've worked with children for the last decade. The kids in my life today, and the one's I've taken care of over the years have had a tremendous impact on me. A big part of my inspiration comes from them. Life can be boring without imagination. My brain was designed to create. When I do, it's as if my entire existence makes sense.
Watching children dive into their imaginations is the most inspiring thing I have ever experienced. They actually invite me into their worlds to play! It's the most sacred place there is…a secret escape. When I worked on Leo I discovered my own realm of creation. The more pieces I create, the more time I spend there, the more I discover myself.
Art encourages me to stay connected with my inner child. I want my imagination to thrive. As we grow up sometimes we're forced to abandon our childish beliefs. Our imaginations can be too quickly ripped from us. I want to revive the imagination through art…and to have fun doing it!! I mean really…who gets to create unicorns and mermaids?! I've found my calling. This is it.